Interested in a consultation without any obligation attached?


"*" geeft vereiste velden aan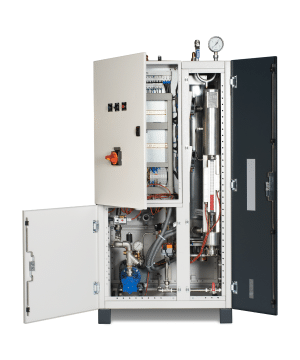 Rent an electric steam boiler
Do you need steam temporarily? Then renting an electric steam boiler offers a solution. The rentable steam boilers could, for instance, be a solution when temporary production is planned and this requires more steam. By renting our compact electric steam boilers, you temporarily have a higher steam capacity at your disposal.
Another instance could be for testing a test set-up; also then the rental boilers can offer a solution. Scharff Techniek ensures that you can continue to focus on what you do best. Your core business. We can also take care of the transport, assembly and all accessories, so that you are completely unburdened during the entire rental process.
Total package
Whether you have experience with steam technology or not, we like to make things as easy as possible for our customers. We can take care of the assembly as well as the transport. Our technician can install the electric rental boiler on-site and gives expert advice on its use. Do you need additional accessories? Scharff Techniek can provide you with steam fittings such as steam hoses or reducing stations. The electric steam boiler rental, our total package, includes:
Rental generator set;
Rental water softener;
Rental steam fittings;
Transports;
Assembly and disassembly.
Technical Details
The compact electric steam boiler Certuss E72 for up to 97 kgh is the type of boiler that we offer for rental. Steam boilers with a stainless steel version are also available. In a battery setup, a maximum of 194 kgh of steam is available. The pressure is adjustable from 4 to 6 bar. Other pressures are negotiable. This electric steam boiler is PED approved up to 6 bar. In other words, it is very suitable for applications where steam is temporarily required. For more technical details, please contact us.
Sustainable
Since our rentable steam boilers are electric, they are sustainable. When using green energy, the boilers are entirely emission-free. For companies that deem sustainable production important and prefer renting over buying, renting an electric steam boiler can be a good option.
Service from Scharff Techniek
As a steam boiler supplier with more than 35 years of experience, we provide specialist advice tailored to your production process. After having delivered almost five hundred installations and with more than 100 installations under maintenance, you are assured of a professional, experienced partner. Want to know more about the possibilities? Please contact us.